Drain Cleaning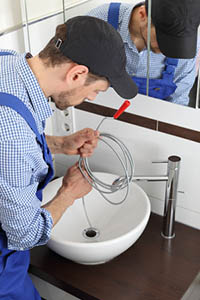 When you need drain cleaning or sewer drain line clearing done in Eagle, call us at Dillon Plumbing as soon as possible. We'll get to you quickly because we understand that these problems can't wait and you don't want to deal with them for any longer that is absolutely necessary. Our plumbers keep working until your water and waste are flowing again, just the way you need them to. Call us now!
Our plumbers can unclog any drains, so you never need to worry that yours is too big or too bad for us. We'll keep working until your water and waste are flowing again, just the way you need them to.
Drain Cleaning in Eagle
We'll start your drain cleaning in Eagle, Idaho by arriving on time and talking with you about what you've been experiencing with your drains. After that, your drain cleaners will get straight to work. They will locate your drain, then determine the best way to unclog your drains.
Most of the time, we do indoor drain cleaning with a plumbing snake. These flexible tubes fit inside your drain and allow us to remove your clog or break it up. Your drain cleaners in Eagle, Idaho will come equipped with these on their trucks so they can get your clog out fast and get your life back to normal ASAP.
Sometimes, we need to use other methods to unclog your drains. We may utilize drain rodding or we may have to find the clogged section of pipe, remove it, and replace it with a new one. No matter what it takes, though, your drain cleaners will get those lines cleared as soon as they can.
Sewer & Drain Line Clearing
Sometimes, drain cleaning turns into sewer drain line clearing. If your clog is in your sewer, though, don't worry! We can still unclog your drains. We'll find your clog using a camera on a flexible cable. Once we know where it is and what it's made of, we'll choose the best way to remove it.
Most of the time, we can perform your sewer drain line clearing in Eagle, Idaho without ever having to dig up your yard. This saves you time, money, energy, and makes the whole process something that can usually be completed in less than a day.
There's no reason to worry about sewer line clearing anymore. Just call in experts from Dillon Plumbing to get the job done ASAP. We'll be there soon and work until the job is done.
Make your appointment for drain cleaning or drain line clearing today. Our skilled plumbers will be there soon to get rid of your clog and make your plumbing run smoothly again. We Make Plumbing an Art - Attention to Detail is Our Craft
Our experts are here to help you with fast friendly service!
SCHEDULE SERVICE
Expert Tips for Your Home