It's easy to feel stressed out when you find out you need sewer repairs. After all, most homeowners don't know much about sewer lines and don't think about them until they stop working.
At Dillon Plumbing, we'll do everything we can to take your anxiety away. That includes offering trenchless sewer repair options when those will work for your situation. Here are the trenchless sewer repair pros and cons that we commonly discuss with homeowners.
Pros
Trenchless sewer repair offers a number of benefits, including:
No digging. This is huge. When we repair your sewer line trenchlessly, we might have to dig a few small holes. However, that's nothing compared to the trench required by conventional sewer repairs. Save your yard (and a whole lot of hassle!) and choose a trenchless repair.
Get your sewer repaired sooner. Because we don't have to dig, then fill in the trench afterwards, your trenchless sewer repair will be completed faster than a traditional one. Get your sewer working again soon with a trenchless sewer repair.
Spend less on your sewer repair. While the trenchless repair itself might cost more than a conventional repair, you won't have to pay someone to fix your yard when we're done. This restorative yard work can cost quite a bit, but you get to avoid those fees with a trenchless repair.
Cons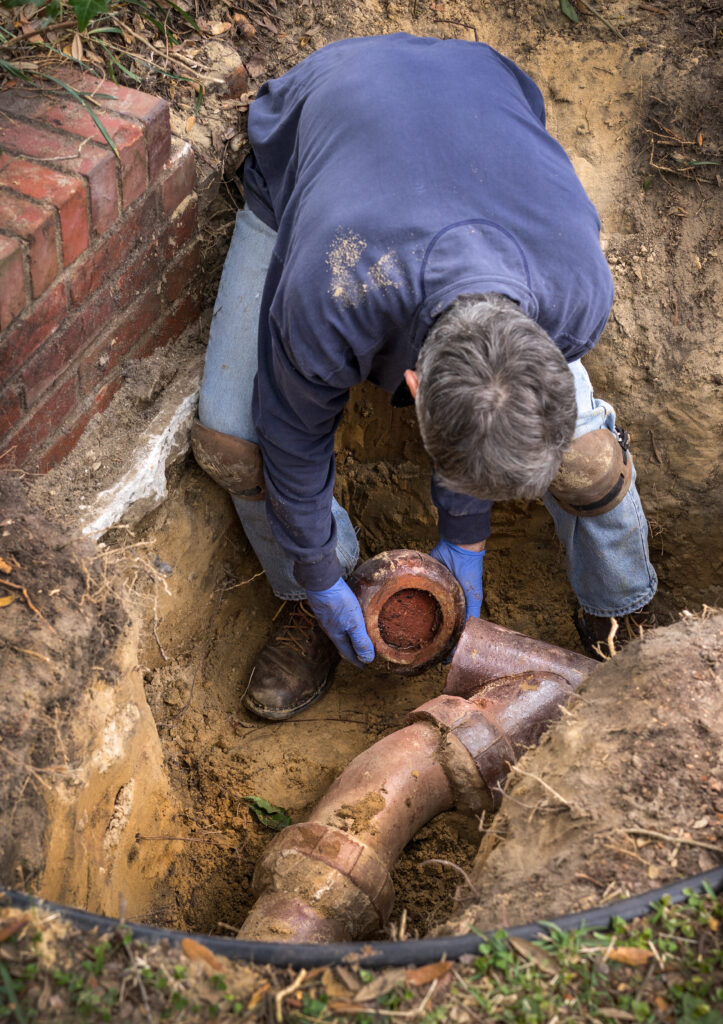 There is only one significant downside to trenchless sewer repairs. Sometimes, your pipes might be too old or too damaged for trenchless repairs to be a good option for you.
Most of the time, we can figure this out before we start work. We'll send a camera down into your sewer line to get a good look at the pipes and the problem before we ever suggest a trenchless repair.
Sometimes, though, we won't find out the true condition of your pipes until we are doing the work. In these cases, we may have to start a repair trenchlessly and finish it up the conventional way. We'll do everything we can to avoid this, but sometimes it is unavoidable.
Pipe Lining vs. Replacement
Pipe lining is one method of trenchless sewer repair that we use a lot. It involves trenchlessly placing a robust liner inside your pipe, to cover any small cracks or breaks that might exist in your line. Sometimes, you can choose this instead of a pipe replacement.
Many people ask us about pipe lining vs pipe replacement. Here's our list of sewer liners pros and cons.
Pipe liners are fast, affordable, and long-lasting, and getting them will disrupt your life less than a full sewer replacement. However, they aren't designed for large cracks or for pipes that have been dislodged or displaced. They also only work on certain types of pipes and are not appropriate for pipes that are already as narrow as they can safely be.
Our team can help you decide which option is best for you!
When you need a sewer repair, call us at Dillon Plumbing, your favorite plumber in Boise for all of your sewer needs!