Get Reliable Sewer Repair in Nampa, ID Without A Mess
Is your sewer leaking or clogged? No matter the cause of your problem, call Dillon Plumbing about trenchless sewer repair in Nampa, ID today.
Our experienced Nampa plumbers can fix your sewer without digging up your entire yard. Using trenchless sewer repair technology, we'll get your sewer flowing again so you can get back to your normal routine.
What is Trenchless Sewer Repair?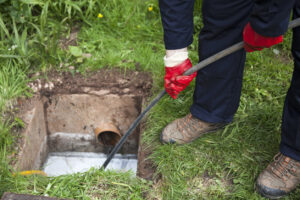 When most homeowners think of sewer line repair, they think of bringing in the backhoes and digging up their entire front yard to unearth the sewer from their home to the street. Over the last few decades, though, plumbers have moved away from these traditional sewer repair methods whenever possible.
Now, we perform most sewer line repairs via the sewer port inside your house. We'll start the process by sending a camera on a cable through this port and down the entire length of your sewer. This camera gives us a 360-degree view of your entire sewer line so we can see exactly what has gone wrong. Whether your line is clogged, cracked, or corroded, the camera will show us.
The camera also allows us to find the exact location of the problem in your sewer. We have equipment that can detect its signal from above ground, so we can find the place in your yard right above your sewer problem.
Once we know what has gone wrong and where the problem is located, we'll let you know which trenchless sewer repair technology is right for you. The vast majority of our repairs involve either pipe relining or pipe bursting.
Pipe Relining
Pipe relining allows us to replace one piece of broken pipe when the rest of the pipe is still intact. We'll dig one small hole, then pull a flexible pipe through the inside of your current pipe. When it's in the right place, we'll inflate this liner. A special resin allows it to attach to the existing pipe to cover over any holes or other problems.
Pipe Bursting
Pipe bursting allows us to replace large sections of damaged pipe. We'll dig two small holes, then pull a new pipe armed with a bursting head through the section of pipe that needs to be replaced. The bursting head will destroy the old pipe, all while pulling the new pipe into the right spot. Both of these technologies allow for sewer line repair without destroying your yard.
Benefits of Trenchless Sewer Repair
The benefits of trenchless sewer repair go beyond saving your yard. They also make for:
Lower-priced sewer repair. Not only are you not paying to replace your yard when we're done, but you're also not paying to bring in a backhoe and a dig crew. All of this makes these repairs cheaper than traditional ones.
A safer repair. Digging up your sewer can release all sorts of gases and fumes that would be better off remaining in the ground. Trenchless sewer repair keeps them where they belong.
Call Dillon Plumbing today about your trenchless sewer repair in Nampa, Idaho. We look forward to helping you soon! We Make Plumbing an Art - Attention to Detail is Our Craft
Our experts are here to help you with fast friendly service!
SCHEDULE SERVICE