Nampa, ID Rooter Service
Do you have tree roots growing into your sewer line and blocking it or threatening to block it? Then call us at Dillon Plumbing for rooter service in Boise, Nampa, ID or the surrounding areas today!
We'll get to you fast, assess your needs, and perform your rooter service ASAP. Before you know it, those tree roots will be out of your way and they won't bother you anymore for a while. We'll take your stress away and get your sewer line flowing well again soon.
What is Rooter Service?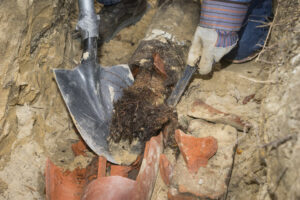 Rooter service, or rooter plumbing, involves removing tree roots from your pipes and your sewer line and fixing any damage that they have caused. It can involve hydro jetting, which is shooting a pressurized stream of water down your lines. It can also involve using a plumbing snake and cutter tools, then replacing any damaged sections of pipe so that the roots can't get back in.
While drain rooter service originally focused only on tree roots, we actually use the same methods anytime you have a clog that is deep in your plumbing system or in your sewer line.
How Rooter Service Can Help You
Have your drains all stopped working? Did someone assess your sewer line and let you know there is significant clogging there, from tree roots or other sources? Then rooter service is for you.
Your rooter plumbing team will get your sewer draining normally again as soon as possible. We'll do our best to limit the damage done to your home via clogged or backed-up sewer lines and we'll make sure that everything is flowing well again before we leave.
Call for Rooter Service Today!
If you suspect a sewer clog, call our drain rooter team today. We'll send someone out to determine the best ways to remove your clog. Once we know that, we'll talk to you and schedule your full rooter service ASAP.
Our Nampa Plumbing team will arrive on time and get straight to work. They'll stay out of your way as much as possible and work as fast as they can without sacrificing the quality of their work. Before long, you'll have the cleared out sewer lines you need to live well in Nampa, ID.
Call us at Dillon Plumbing to find out just how easy it can be to get rooter service for your drains and sewer lines in Boise, Nampa, ID,and the surrounding areas. Make your appointment today! We Make Plumbing an Art - Attention to Detail is Our Craft
Our experts are here to help you with fast friendly service!
SCHEDULE SERVICE