Parma Water Heaters
When your hot water isn't working well, you need water heater services in Parma ASAP. That's when you should call us at Dillon Plumbing. We'll work with you to make sure you get your hot water back on fast, so you don't have to worry about it and you don't have to wonder if it will work when you need it.
Water Heater Repair in Parma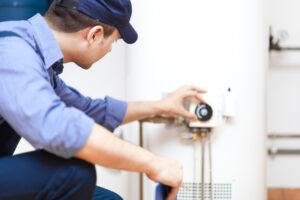 When you call us for water heater repair in Parma, ID we'll have an experienced expert out to you fast. We'll take the time to test your water heater to make sure we find the source of your problem. Then, we'll implement the best possible solution for your specific needs, so your hot water should be back on soon.
We can complete your tankless water heater repair in Parma fast, too. We have worked on these heaters for years and we know them inside and out, so we'll be able to find your problem and fix it fast. Stop worrying about your hot water heater repair when you call us and know we're on your side.
Parma Water Heater Repair vs Replacement
Are you unsure whether you should ask for a water heater repair or a water heater replacement in Parma? Our Parma plumbers are always happy to take a look at your water heater and let you know.
In general, we recommend a water heater replacement when:
Your water heater repair or tankless water heater repair in Parma is going to cost as much or more than getting a new heater would cost. We can estimate both costs for you so you can make an informed decision
You aren't happy with the way your current water heater is working. It may not be producing enough hot water for you or it may not have the energy efficiency you wish it had.
Your water heater is more than 10-15 years old. It may not be worth it to invest in fixing an aging water heater.
Your water heater requires frequent repairs, regardless of its age. This can indicate that it isn't working well and needs replacement, even if it's not technically "old enough" yet
Call Dillon Plumbing for Your Water Heater Services
No matter what you choose, our experts in water heater services in Parma will get the work completed quickly. Our goal is always to help you find the water heating solutions you need ASAP so you'll have hot water you can use again soon. We Make Plumbing an Art - Attention to Detail is Our Craft
Our experts are here to help you with fast friendly service!
SCHEDULE SERVICE