Nampa Water Heater Installation
If you wake up to lukewarm, cold, or inconsistent water temperatures, you may need a new water heater installation or other services in Nampa. Call us today! The team at Dillon Plumbing will make sure your hot water is restored so you can get back to your daily life for a stress-free service experience.
Water Heater Installation in Nampa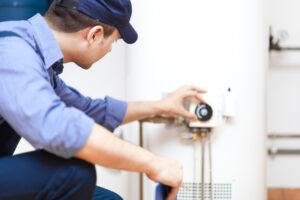 Call us for water heater repair or a new installation in Nampa, ID, and we'll get an experienced plumber out to your home or business as quickly as possible. We install all varieties of water heaters, including:
Electric Water Heater in Nampa, Idaho
Tankless Water Heater Service in Nampa Idaho
Gas Water Heater in Nampa
Whatever the issue, we'll make sure we find a solution that meets your specific needs to get your hot water back on. We know all of the water heaters on the market inside and out to resolve your problem, perform a Nampa water heater installation, and restore peace of mind and order in your home.
Nampa Water Heater Installation and Replacement
If you're not sure if you need a new Nampa water heater, our experienced team is here to help. We'll come out to look at your heater and determine if you need scheduled maintenance, a repair, or new system. Our Nampa plumbers recommend water heater replacements when:
Your water heater is ten to fifteen years old and nearing the end of its typical lifespan.
You want a more efficient system that could potentially save on energy bills.
Your Nampa water heater repair is going to cost as much or more than a new heater. We'll give you an estimate on both costs so you can make a decision that suits your needs and budget.
Your current water heater isn't working the way you want. Your hot water heater Nampa may not produce the hot water you need or at the efficiency you deserve.
You need frequent water heater repair in Nampa. Frequent repairs are often a telltale sign that your unit isn't working well and needs a replacement, even if it's not "old enough" to need a new Nampa water heater installation.
Call Dillon Plumbing for Nampa Water Heater Installation
No matter what kind of service you're looking for, a Nampa plumber can help with all your water heater needs and installation. We'll get the job done quickly so you can enjoy your hot water again. Our goal is to help you find the best Nampa water heater for your home for a seamless, stress-free installation with reliable service you can count on. We Make Plumbing an Art - Attention to Detail is Our Craft
Our experts are here to help you with fast friendly service!
SCHEDULE SERVICE