Are you looking for a water treatment solution that will help you get the water you've always wanted? Maybe you don't like the taste of your water or you've noticed hard water marks appearing on your glasses or other places in your home. Water softeners can help with both of these problems and more.
At Dillon Plumbing, we see helping you with water issues, as helping you make your home into a place where you are happy to live. After all, if you don't like the water, it might be hard to feel at home somewhere or to feel like you can fully enjoy your house. Once we get you the water softening system that you need, you'll be better able to use your home the way you want to.
What is Hard Water?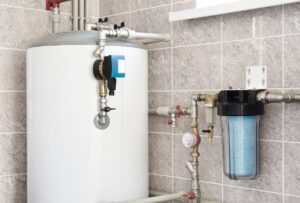 "Hard water" is what people call the kind of tap water that contains high levels of minerals. This can include magnesium, calcium, and sulfates. It is measured by a term called "hardness levels", and if yours is over 180 PPMs, that is considered hard water.
However, you do not have to just deal with hard water at your house. It can harm your plumbing and leave water spots everywhere. But, you can have a company install a water softener system that will actively work to remove these deposits from the water.
How Does A Water Softener Work?
Water softener systems are just one way to treat water from your water lines. But "how does a water softener work" to improve your hard water or other water issues?
Ion exchange resin process – This involves using sodium beads to eliminate calcium and magnesium and therefore make the water "softer"
Reverse osmosis – This process has water go through a semipermeable membrane at a very high pressure, which forces out many of the biological agents and chemicals that can be harmful to your health.
Water Softener Installation
If you have hard water in Nampa water softeners, give us a call today. Our experienced Nampa water treatment professionals understand the importance of having healthy, clean water at home is to you and your family, because it's important to ours. When you call us to handle your hard water issues we assess your water condition and determine if water softener system installation in Nampa is the best treatment for your needs. If so, we'll get right to work! If there is more effective option to treat your water issues we will discuss that with you before proceeding.
Allow our team to create a healthier living environment that has no risk for hard water. Contact us online or call (208) 466-3707 to get started.