When to Call a Plumber for Drain Cleaning
If you're a homeowner, then you will probably face this dilemma at some point. Do you call a plumber to fix a clog or continue to try doing so on your own? You can always call us at Dillon and we'll give you our professional opinion about whether or not you need our drain cleaning services. However, here are some tried-and-true guidelines to help you decide what is best for your home.
Your Clog is Deep
If you've tried the plunger and nothing changed, chances are you need to work with a plumber on that clog. We can use a plumbing snake or drain rodding to get deeper into your system and remove the clog wherever its located. We don't recommend you try these methods without training because you can harm your pipes and cause even more damage.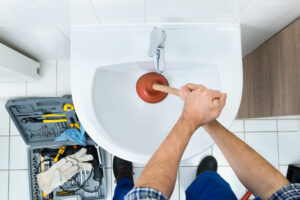 You See Water
Clogs can cause all sorts of backups and pipe damage. If you have leaks or you see pooling water outside of your pipes, give us a call about drain cleaning right away. We'll fix the clog and we'll also fix the damage that your clogged drains caused in your plumbing system.
You Suspect a Sewer Clog
If you think you might have a clog in your sewer, don't attempt to handle it on your own. If sewage is backing up or you smell that horrible sewer smell, pick up the phone and make an appointment with one of our drain cleaning experts right away. We'll get your home back to normal fast so you can get on with your life.
You Have Frequent Clogs in One Drain
You need professional drain cleaning if you have one drain that seems to be your main problem. We'll figure out why these clogs keep happening and help you get the final solution you need. Stop dealing with those clogged drains when you reach out to us today.
You Use a Lot of Drain Cleaner
Most drain cleaners aren't very good for your pipes. If you find yourself going through bottles of the stuff each month, it's time for professional drain cleaning instead. We'll find out why you have so many clogged drains and get rid of the problem for good.
Call Dillon today if you need drain cleaning help at home. Our plumbers will get rid of that clog as soon as possible!