At Dillon Plumbing, we want to be your first stop for sewer and drain cleaning in Greenleaf. Our team can get rid of any clog, no matter where it is in your system or how stubborn it is. We have a wide variety of methods we can use to clear your drains, so we can always make sure your clog is completely gone!
Our Drain Cleaning Process
When you call us for drain clearing in Greenleaf, we'll be on our way to your address ASAP. We know that a single clog can mess up your whole day, so we'll do our best to get there and get rid of it as soon as possible.
Our team will examine your system, then start the process. Most of the time, we can use a plumbing snake on indoor clogs. These flexible cables fit into your pipes and have hooks or spikes on them that we can use to break up your clog or pull it out of the system.
If this doesn't work on your drains, there are other things we can try, too! If nothing else, we can find the clogged portion of pipe and replace it with one that is clog-free!
We Do Sewer Cleaning, Too!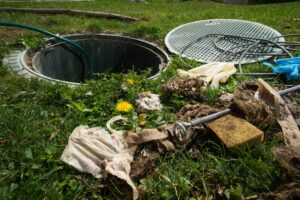 If it turns out that your clog is actually in your sewer line, we can get rid of it there, too! We usually start by sending a camera on a flexible cable down through the line to see where your clog is and what it's made of.
Most of the time, we can complete your sewer drain cleaning in Greenleaf via hydro jetting. Your plumber will spray a pressurized stream of water into your sewer lines and aim it at the clog. The pressure will break up the clog and send it down the line.
We can also use drain rodding, pipe replacement, and more to complete your sewer drain clearing in Greenleaf. Our team won't rest until you have the clean sewer you need so you can thrive in your home.
Call Dillon Plumbing for Drain Cleaning Services in Greenleaf!
Call us at Dillon Plumbing anytime you need sewer and drain cleaning in Greenleaf. We'll be there as soon as possible so you won't have to live without that functionality for long. Our team will show you how easy it is to get the clean drains you need. Call now to get an appointment with a skilled plumber soon! We Make Plumbing an Art - Attention to Detail is Our Craft
Our experts are here to help you with fast friendly service!
SCHEDULE SERVICE
Expert Tips for Your Home