Parma Toilet Repair
Do you need help with toilet repair in Parma, ID? Do you think your toilet is negatively affecting your bathroom plumbing in Parma?
If this is you, then give us a call at Dillon Plumbing right away. We'll work with you to make sure you always get the best solutions to all of your toilet problems. Our Parma plumbing team will get to you fast, assess your broken toilet, then start a repair ASAP. We won't rest until your toilet works again!
Signs You May Have a Toilet Problem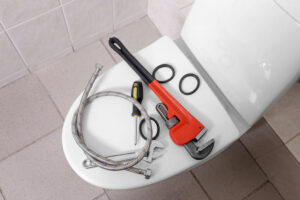 Sometimes, people hesitate to call us because they think their toilet problem might not be bad enough for our experts, or because they don't recognize the way their toilet is functioning as a problem. While we are always happy to take a look at your toilet or fix a leaky toilet in Parma, here are some signs that you absolutely need the services of a plumber.
Your toilet leaks water onto the floor
Your toilet doesn't flush
Your toilet runs all the time
Your toilet flushes on its own
Your toilet makes unusual sounds
Your toilet has a low water level or the water pressure seems low
A bad smell comes from the toilet
All of these qualify you for a toilet repair in Parma and we can fix all of them. Call today to get a plumber in Parma to your front door soon.
Getting Your Toilet Repairs in Parma
When you call us for a toilet repair, we'll make sure you get an appointment that is convenient for you. Our plumber in Parma will arrive on time, then get right to work on your bathroom plumbing in Parma.
We have worked on toilets for years, so we are sure we can fix your leaky toilet in Parma or resolve any other problems you're experiencing. We will make sure we find the source of your toilet woes so you won't have to worry once we're done fixing it.
Our team will find the best possible solution for you. If we recommend something, you can be sure it's a repair that we would be happy to have done in our own home to fix the same issue. We'll work hard to ensure your toilet repair gets finished fast.
Call for Toilet Repair in Parma, ID
Call us today or the next time you need a toilet repair in Parma. Our plumbers from Dillon Plumbing are always happy to help and will get there fast. Make your appointment now! We Make Plumbing an Art - Attention to Detail is Our Craft
Our experts are here to help you with fast friendly service!
SCHEDULE SERVICE