Boise Water Heaters
When your hot water isn't working properly, your shower runs cold, or doing laundry is a struggle, you need water heater services in Boise. Call the experts at Dillon Plumbing right away, and we'll resolve the issue as soon as possible. We'll get your hot water back on quickly to get you back to your usual routine and alleviate your stress.
Water Heater Repair Boise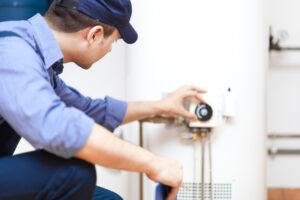 Call us for water heater repair in Boise, and one of our licensed plumbers will come out to your home or business to get your day back on track. We'll test your water heater, assess the issue, make any recommendations, and come up with a solution with fair, upfront pricing you can trust for a worry-free experience.
Our team also understands tankless heaters inside and out. We'll help you find the problem and get to work on your tankless water heater repair Boise ID. No matter your unit or system, we can resolve the problem. Call us today to restore the functionality of your home and get everything up and running again.
Boise Water Heater Installation
Are you in the market for a new water heater? Maybe you need one that is larger because your hot water needs have changed. Or, maybe, you want a tankless water heater because you've done your research or used one somewhere else and it seems perfect for you. No matter your reason for water heater installation, our plumbers in Boise will get the job done fast.
If you're installing a tankless water heater or switching from gas to electric, the installation can get a little trickier. That's ok! Our plumbers will complete the work themselves or we will bring in subcontractors to get it done just right. We take full responsibility for making sure your new water heater gets installed perfectly!
When everything is back together again, we'll test your new water heater to make sure it's working well. We'll let you test it, too. If you're not completely satisfied, we'll go back to work until things are working the way you need them to work to live well.
Water Heater Replacement Boise
Since water heaters are relatively inexpensive appliances, we'll let you know if we think you'd be better off replacing your unit rather than repairing it. If you do choose water heater replacement in Boise and the surrounding areas, we'll make sure you get a new water heater that will meet all of your needs and that comes from a reliable manufacturer.
Boise Water Heater Repair vs Replacement
It's normal to have trouble figuring out if you need a water heater repair or replacement Boise. We can help! Our Boise plumbers are here to help and assess exactly what's going on with your water heater.
In general, we recommend a replacement over water heater repair in Boise when:
It's going to be more expensive, or just as costly, as your water heater repair in Boise. We'll come up with an estimate for both costs so you can make the best decision for your home and budget.
Your current water heater isn't working great, repeatedly giving you problems, and your energy bills are high. Your unit may not be producing enough hot water or working efficiently enough for your needs, signaling that it's time for a new unit.
Your water heater is more than 10 to 15 years old. Aging water heaters are at the end of their life span, and you're usually better off investing in a new unit than repairing it.
You're constantly fixing your water heater, regardless of its age. Ongoing water heater repairs in Boise are a sign that there's something wrong with your unit and that it isn't going to perform well, no matter how many times you fix it. Even if it's not technically "old enough" yet, you should consider water heater installation in Boise.
Tankless Water Heaters Boise
Are you interested in getting a tankless water heater for your home or do you have one that isn't working? Then call us for our tankless water heater services today!
We can repair your current tankless water heater or help you choose a new one that will get you the hot water that you and your family need for many years. We can modify your current system so that it will work with the tankless water heater, then install it for you.
Not sure if Boise tankless water heaters are right for you? Call us today and we'll send someone out to help you find the answers you need.
Call Dillon Plumbing for Your Water Heater Services
We provide more than heater repair in Boise, Idaho. We offer all the services you need, from repairs to new installations. We'll get to work as quickly as possible to restore your comfort, peace of mind, and hot water. We Make Plumbing an Art - Attention to Detail is Our Craft
Our experts are here to help you with fast friendly service!
SCHEDULE SERVICE