Sewer Repair in Eagle, ID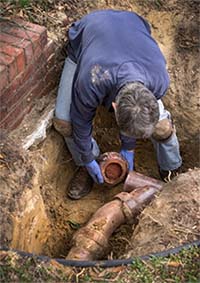 Contact us today if you need sewer repair in Eagle, Idaho. At Dillon Plumbing, we have experienced sewer experts standing by, ready and waiting to come to your house, assess your sewer needs, and help you find the solutions that you need. Whether you need to have your sewer cleaned out or part of it needs replacing, we'll get the job done as soon as we can so you can get your life back to normal fast.
Eagle Trenchless Sewer Repair
Whenever we can, we'll use trenchless sewer repair in Eagle, Idaho. These technologically advanced methods allow us to get your sewer repaired without having to dig up your entire yard. If we do have to dig, it is likely to be only a couple of holes, rather than taking up grass, trees, shrubs, and even sidewalks or driveways. If these methods will work for you, we'll always use them to save you time, money, and energy.
We have access to the most popular forms of trenchless sewer repair, including pipe bursting, pipe relining, hydro jetting, and more. We'll make sure you get the best solution for your home and your family. Trenchless sewer repairs go faster than regular repairs, too, so we'll get the job done quickly so you can get back to your schedule fast!
Our Sewer Line Repair Process
We'll start your sewer repair in Eagle, Idaho with a video inspection of your sewer line. This involves sending a camera on a flexible cable down the line to get a look at what is going on down there. It also shows us the exact location of the issue so we can more easily plan to fix it.
After we do this, we'll start your sewer line repair right away. Before long, your waste will be flowing again as normal and you won't have to worry about sewer problems for a long time.
Call Dillon Plumbing for any sewer repairs you need today! We Make Plumbing an Art - Attention to Detail is Our Craft
Our experts are here to help you with fast friendly service!
SCHEDULE SERVICE