Wilder Drain Cleaning
Do you struggle with drains that clog frequently? Have you attempted to clean your own drains but it hasn't worked out well?
If this is you, then you're in the right place. At Dillon Plumbing, we can help you with drain cleaning in Wilder today. Our expert plumbers will work with you to make sure you get the solutions you need no matter what is going on with your drains in Wilder, ID.
Our Drain Cleaning Process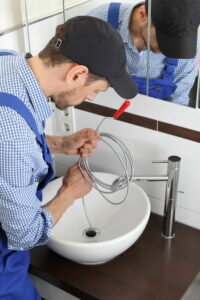 When you call us about your Wilder drain cleaning, we'll work with you to make sure we get a plumber out to you as soon as possible, at a time that's also convenient for you. We want to resolve your drain problems fast so you don't have to worry about them anymore.
Once there, we'll take a look at your drains. We may ask you a few questions about repeated clogs or clogging patterns. Then, we may send a camera down your pipes to look at the clog itself.
We don't consider ourselves finished until you're satisfied with your sewer and drain cleaning in Wilder. We'll let you test the system to ensure it's working the way you need it to and the problem isn't still present.
Sewer & Drain Clearing in Wilder
We'll complete your sewer and drain cleaning in Wilder no matter what. Most of the time, we can use a professional-grade plumbing snake on indoor pipes. That way, we can clear your drains without having to take anything apart.
We may also use hydro jetting to complete your drain clearing in Wilder. With this technique, we spray a pressurized stream of water into your pipes. This breaks up your clog and sends it down the lines, where it can eventually drain into the city's sewer line in the street.
We have other techniques we can use, too, if your clog is particularly stubborn or awkwardly placed. We'll remove it no matter what it takes, then make sure your plumbing is back to normal before we leave.
Get Sewer & Drain Cleaning in Wilder, ID
Stop worrying about sewer and drain cleaning in Wilder and call us at Dillon Plumbing instead. We'll be there soon to fix it fast and get everything flowing the way you need it to again. Make your appointment today! We Make Plumbing an Art - Attention to Detail is Our Craft
Our experts are here to help you with fast friendly service!
SCHEDULE SERVICE