Wilder Sewer Repair
If your sewer isn't working, don't panic! Call us at Dillon Plumbing so we can complete your Wilder sewer repair ASAP. We'll do everything we can to take your stress away because we know that fixing your sewer can be difficult and cause a lot of hassle.
Get Your Sewer Fixed Today!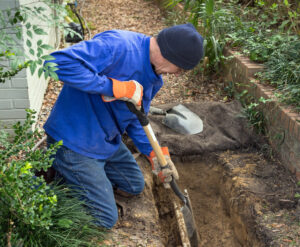 When you contact us, we'll come to take a look at your sewer right away. Before we begin any sewer line repair in Wilder, we'll send a camera down your lines so we can determine what has gone wrong. The camera gives us a complete view of your sewer from your home to the street, so we can find the problem and diagnose it quickly.
Our cameras also allow us to determine the location of your sewer repair in Wilder from the surface, so we can figure out where it is in relation to your yard, your driveway, and other features of your home. This helps us figure out the best way to access the problem so we can fix it quickly.
Trenchless Sewer Repair
Whenever possible, we'll perform a trenchless sewer repair in Wilder. This means that we use technology to access your sewer line remotely, either from inside your home or from your sewer access in the street.
While we may have to dig one or two smaller holes, trenchless sewer repair in Wilder allows us to repair your line without digging a trench along its entire length. This dramatically shortens the amount of time that your repair takes. It also means you don't have to pay someone else to come put your yard back together when we are done.
Trenchless sewer line repair in Wilder lasts, too. Most of the time, the parts we install are guaranteed for up to 50 years, so they are built to last as long as the rest of the line does.
Of course, if trenchless methods won't work for you, we can repair your sewer the conventional way, too. We'll do whatever is best for your home and the specific sewer repairs you need.
Get Expert Sewer Repair in Wilder Today!
Call us at Dillon Plumbing today to get one of our expert plumbers out to handle your Wilder sewer repair ASAP. We'll make sure we find the source of your problem and get it fixed fast so your water and waste will drain normally again soon. Schedule your sewer repair in Wilder now. We Make Plumbing an Art - Attention to Detail is Our Craft
Our experts are here to help you with fast friendly service!
SCHEDULE SERVICE