Wilder Toilet Repair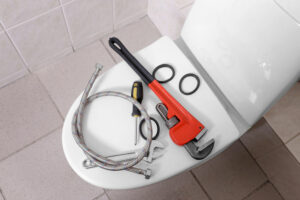 Are you experiencing problems with your toilet? Have you tried to fix your leaky toilet in Wilder but you haven't had any luck?
If this is you, then call us at Dillon Plumbing today. We'll get an expert plumber out to you fast, help you find the solutions you need, and implement them ASAP. Our goal is to get your toilet repair in Wilder finished quickly so you can get back to your regular life soon.
Do You Have a Toilet Problem?
If your bathroom plumbing in Wilder isn't working and you think the problem lies with your toilet, give us a call. We can fix all of the following problems and more!
Your toilet seems to run constantly
Your toilet runs at random times when it hasn't been used
Your toilet flushes slowly or you have to hold the handle to get it to flush
Your toilet keeps overflowing
Your toilet overflows and you can't figure out why
There's water pooling around the bottom of your toilet
Your toilet makes sounds you haven't heard it make before
You have to move or jiggle the handle to make the toilet stop running
Your toilet smells bad no matter what you do
Your toilet won't flush
Your toilet has unusually low water pressure
Common Toilet Repair in Wilder
If you're experiencing any of these issues, call us now. We'll come out to take a look at your commode and complete your toilet repair in Wilder as quickly as we can.
We'll make sure we find the source of your toilet problems. If you call us to fix a leaky toilet in Wilder, our goal is that you don't have to call us for the same problem again! We'll put in the time and effort the first time because that makes your life easier all the way around!
Get Your Toilet Fixed Today
If your toilet isn't working, don't sit around hoping it will somehow fix itself. Instead, call us at Dillon Plumbing so we can come out to repair it for you!
Your Wilder Bathroom Plumbing Pros
We can also take care of any other issues that come up with your bathroom plumbing in Wilder. Our team can repair or install sinks, faucets, tubs, showers, and drains, as well as toilets. Call us no matter what is going on with the plumbing in your bathroom so we can make repairs fast and get your home back to normal. Our team will be there soon and we'll work hard until everything is resolved. We Make Plumbing an Art - Attention to Detail is Our Craft
Our experts are here to help you with fast friendly service!
SCHEDULE SERVICE