Sewer Repair in Caldwell, ID
Call Dillon Plumbing when you need sewer repair in Caldwell, Idaho. Our experts know that your sewer problems present a major difficulty for you so we'll get to you quickly and evaluate your sewer ASAP. Then, we'll present you with your options for fixing it. Choose your solution and we'll get to work soon. We'll keep at it until your sewer works well again.
Call the Caldwell Sewer Repair Experts
No matter what sewer repair needs to occur, we'll get it done. We can unclog your sewer lines, fix damaged pipes, and even replace the whole sewer line. We use the latest technologies so you can feel confident that your sewer line is always in skilled hands.
Trenchless Sewer Repair in Caldwell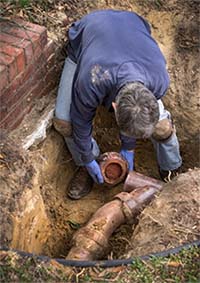 Whenever possible, we'll use trenchless sewer repair in Caldwell, Idaho. These repair methods allow us to fix and replace your sewer line without digging up your whole yard. They can save quite a bit of time, energy, and money.
We'll present you with a list of possible solutions, then make sure that we explain the pros and cons of any possible options so you can choose what is best for your family and your home. Once you've chosen, we'll get to work right away to get everything fixed for you as soon as possible.
Call us at Dillon Plumbing today or whenever you need help with your sewer in Caldwell, Idaho. We'll get everything flowing again ASAP so you can get back to your normal life fast. Make your appointment now!
Check Out All Our Plumbing Services in Caldwell! We Make Plumbing an Art - Attention to Detail is Our Craft
Our experts are here to help you with fast friendly service!
SCHEDULE SERVICE