Drain Cleaning in Meridian, ID
When you have a clogged drain, it can be a major pain! Even just a small clog can prove hard to remove, or it can return no matter how many times you remove it. We work with many homeowners in Meridian who have caused even more damage to their pipes by trying to fix their own backed-up drain. Instead of taking this risk, call in an experienced plumbing team from Dillon Plumbing!
Drain Cleaning Experts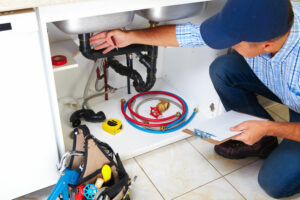 When you call us for drain cleaning, we'll get someone out to your home fast. Your plumber will talk to you about the problems you've been experiencing, then get to work removing your clog. We can handle even the most stubborn clogs, because we have many years in business taking these calls each and every day in Meridian. No matter what it takes, we won't leave until your drain cleaning is complete and things are flowing normally again.
Options For Drain Cleaning
No matter where in your system your clog is located, we'll complete your drain cleaning in Meridian ASAP. If you just have one drain that's clogged, our plumbers will use professional-grade plumbing snakes to remove or break up the clog. These snakes are different from what you can rent at the local hardware store because they are less likely to get stuck in your drains. If you have a clog that's deeper in your system, we can still unclog your backed-up drain. We'll use special techniques to find the clog, then determine the best way to get to it and get it out of there so your water can flow normally once again.
Drainage Experts in Meridian
Call Dillon Plumbing whenever you need drain cleaning in Meridian. Our team has the skill and experience you want on your side whenever you're facing down a stubborn clog. Our team will stand with you and do whatever they have to do to remove your clog as quickly and painlessly as possible. Make your appointment with our skilled plumbers today!
Check Out All Our Plumbing Services in Meridian! We Make Plumbing an Art - Attention to Detail is Our Craft
Our experts are here to help you with fast friendly service!
SCHEDULE SERVICE