Sewer Repair in Meridian, ID
Call Dillon Plumbing whenever you need sewer repair in Meridian, Idaho. We know that your sewer problems are a major issue for you so we'll get to you ASAP and evaluate your sewer quickly. Once we know what has gone wrong, we'll notify you and present you with options for fixing it. Choose your repair option and we'll get to work right away. We'll keep at it until your sewer works again.
Call on Sewer Repair Experts
No matter what sewer repair in Meridian, Idaho you require, our team has you covered. We can unclog your sewer lines, repair broken or damaged pipes, and even replace your entire sewer line if that's necessary. We use the latest technologies so you can feel secure knowing that your sewer line is in great hands.
Trenchless Sewer Repair in Meridian, Idaho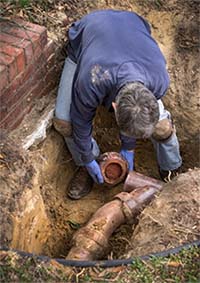 Whenever possible, we'll perform trenchless sewer repair in Meridian, Idaho. These methods allow us to fix and even replace your sewer line without having to dig up your yard. It can save you a lot of time and energy, and money too! If we think that trenchless sewer repair is a good option for you, we'll let you know and talk to you about the pros and cons of it vs traditional sewer repair methods.
Whether you're looking for pipe relining, pipe bursting, or hydro jetting, we can get you the solutions you need. We'll make sure that we tell you the pros and cons of all options so you can choose what is best for your house and your family.
Call us at Dillon Plumbing today or whenever you need help with sewer lines in Meridian, Idaho. We'll get everything flowing again soon so you can get back to your normal routine. Make your appointment now
!
Check Out All Our Plumbing Services in Meridian! We Make Plumbing an Art - Attention to Detail is Our Craft
Our experts are here to help you with fast friendly service!
SCHEDULE SERVICE