Boise Commercial Plumbing
For property managers and other business owners throughout the area, finding a dependable Boise commercial plumbing company is truly invaluable. Dillon Plumbing has been a trusted provider of efficient and professional commercial plumbing services in Boise since 1960.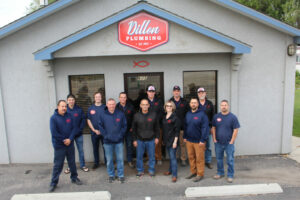 Our team of licensed plumbers in Boise, ID boasts expertise in a wide array of commercial plumbing services, ensuring your buildings and facilities remain up to date and operate seamlessly.
To enhance energy efficiency and align with contemporary designs, it's crucial to routinely address plumbing systems through maintenance and upgrades. Whether you manage an apartment complex, hotel, or another commercial structure, you can rely on your experts in commercial plumbing in Boise to conduct comprehensive assessments of the entire plumbing system and propose cost-effective solutions for its upkeep.
Reach out to Dillon Plumbing today to arrange an appointment to work with the best of the commercial plumbing companies in Boise, ID.
Maintaining Optimal Plumbing for Your Business
Any responsible property manager understands the importance of providing clean, dependable water and fully functional toilets, sinks, showers, and appliances. This task can be substantial for large complexes. Fortunately, Dillon Plumbing is dedicated to overseeing routine building maintenance, renovations, and unit enhancements in the Boise area. We assist with new plumbing designs, the transition to modern water-efficient appliances, and the rerouting of existing plumbing to accommodate updated finishes. When you're looking to invest in the long-term value of your property, choose to collaborate with a highly reputable plumbing company like ours.
Commercial Plumbing Repairs in Boise
When you need an emergency plumber in Boise for some commercial repairs, call us at Dillon Plumbing right away. We'll send out an expert fast so you'll have the help you need soon.
We can also help you with your next Boise drain cleaning, sewer cleaning, water heater repair, and more!
Commercial Plumbing Replacements & Installations
When you need a new Boise water heater or other installations, whether for a property you manage or other commercial structure, our team can help. We'll coordinate installations across your properties if we need to, so you won't have to worry about anything.
Our Boise Commercial Plumbing Services
Dillon Plumbing has decades of experience handling:
Fixtures
New construction
Boise plumbing remodels
Call for Commercial Plumbing Help in Boise Today!
Reach out to Dillon Plumbing today to discuss your property's needs! You can count on us for fast and effective commercial plumbing in Boise. We are your Boise commercial plumber and we would love to help you get the best plumbing help for your business. We Make Plumbing an Art - Attention to Detail is Our Craft
Our experts are here to help you with fast friendly service!
SCHEDULE SERVICE